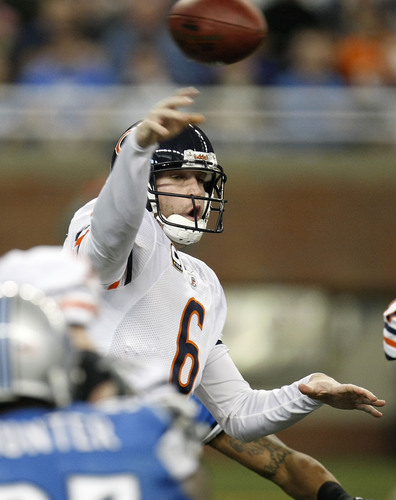 I suppose a lot of people stumble upon this site (or google upon it) looking for
Fighting
Illini
content. Up until now all those people went away with nothing. I say, "up until now" because from now on I'm going to have some
Illini
content.
I realized, after an abysmal preseason, that my beloved Bears were going to disappoint me this year, and maybe even match last year when they failed to retool the entire coaching staff. They proved me right yesterday by doing everything they possibly could to lose that game. I guess Detroit is just better at losing than the Bears.
I bleed orange and blue, from when I was a youngster hoping to run like Walter. When I attended the University of Illinois I managed to make only one football game because I was always playing Rugby on Saturdays. After school I could never find the
Illini
on TV in the Chicago area, I could never find them on the radio either. College football baffled me any way with 10,000 schools and 176 conferences.
I wanted to follow the
Illini
, don't get me wrong, it was just too difficult. This year I found the Big 10 Network is FREE on my Dish subscription, and WIND AM560 carries the games.
I saw, and heard my first game last Saturday. Oh my. I know it was SIU and not another Big 10 team, but the sights, the
Marching

Illini
, the end zones emblazoned in orange,
Block I
, the history, the memories. Why had I not tried to do this earlier? Why had I not gone to basketball games when I was at school?
I'm embarrassed that I don't know the words to Oskee Wow Wow, that I don't really know the traditions of the
Chief,
that I learned the Illinois Loyalty song only while deployed in Afghanistan (in 2004-2005 when they were Number 1 for most of the season). I can't go back and fix that, but I will share my experiences of this season with you if you'd like.
One time while we are being rocketed in Afghanistan I was in a bunker with the DIVARTY Command Sergeant Major. He was from the 25 Infantry Division out of Hawaii, and hadn't been in country long. I had been in Afghanistan for six months by then and these attacks were old hat. I was on the radio working on part of the defense of the base, being the Base Operations Commander, and he seemed to notice our unit's call sign for the first time.
"
Illini
? That's hard to say. You know, you should be Bobcat, or Badger, something easy to say."
I looked at him square in the eye and said, "We're
Illini
, Sergeant Major."